Earlier today, the Government announced that confirmed cases of coronavirus in the UK continue to rise, with two further cases in Scotland. This situation is evolving constantly and we as Pharmacists will meet our front-line challenge to provide the public with the most convenient and effective advice and service possible to reduce the spread of the virus.
The message is clear. Now is a time for precaution rather than panic. This is peak season for respiratory and flu-like illness. There will be cases presenting with symptoms of cough, fever and shortness of breath, but these are highly unlikely to be novel coronavirus.
As is clearly stated in their advice, The Government and NHS are well prepared to deal with this virus and have established public health and infectious disease experts working round the clock, but you can help too. The best way to protect yourself and others is:
Wash your hands with soap and water, or use a sanitiser gel, regularly throughout the day.
Catch your cough or sneeze in a tissue, bin it, and wash your hands. This is the best way to slow the spread of almost any germs, including Coronavirus
If you recently arrived back from mainland China, Thailand, Japan, Republic of Korea, Hong Kong, Taiwan, Singapore, Malaysia or Macau in the previous 14 days and are experiencing cough or fever or shortness of breath, you should to stay indoors, call your GP or if your surgery is closed ring NHS 24 (111) informing them of your symptoms and your recent travel
Do not leave home until you have been given advice by a clinician.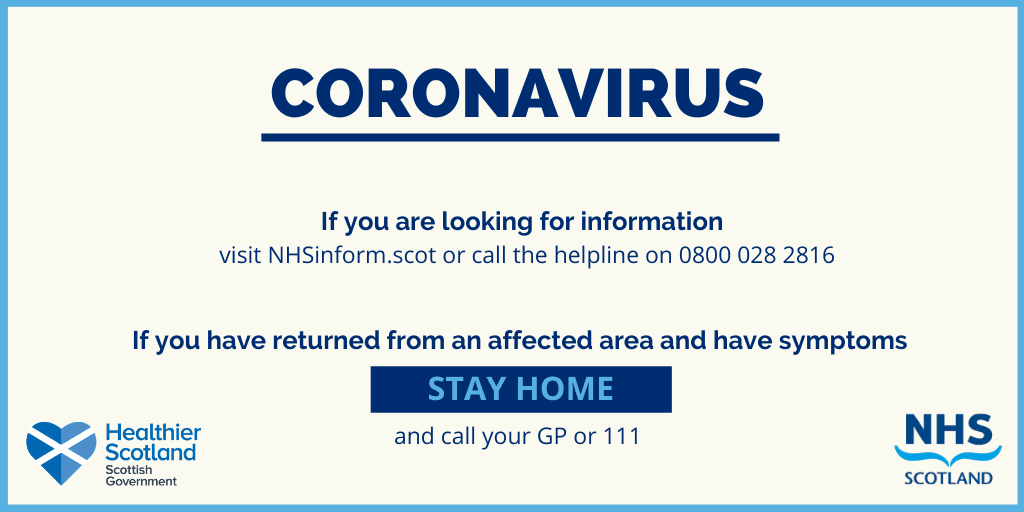 The online medicine management and delivery service offered by Lindsay & Gilmour will help patients to order repeat prescriptions and keep control of their health from the comfort of their own home.
For more information on how this service and our FREE NHS App might help you, please visit our website to find out more or speak to your local pharmacy for advice. It's never been easier to manage your medicines AND benefit from FREE DELIVERY.
Please remember, For the latest advice & information about Coronavirus please visit www.nhsinform.scot or call the helpline 08000282816. There is also a Q&A on coronavirus available via the World Health Organisation website: https://www.who.int/news-room/q-a-detail/q-a-coronaviruses