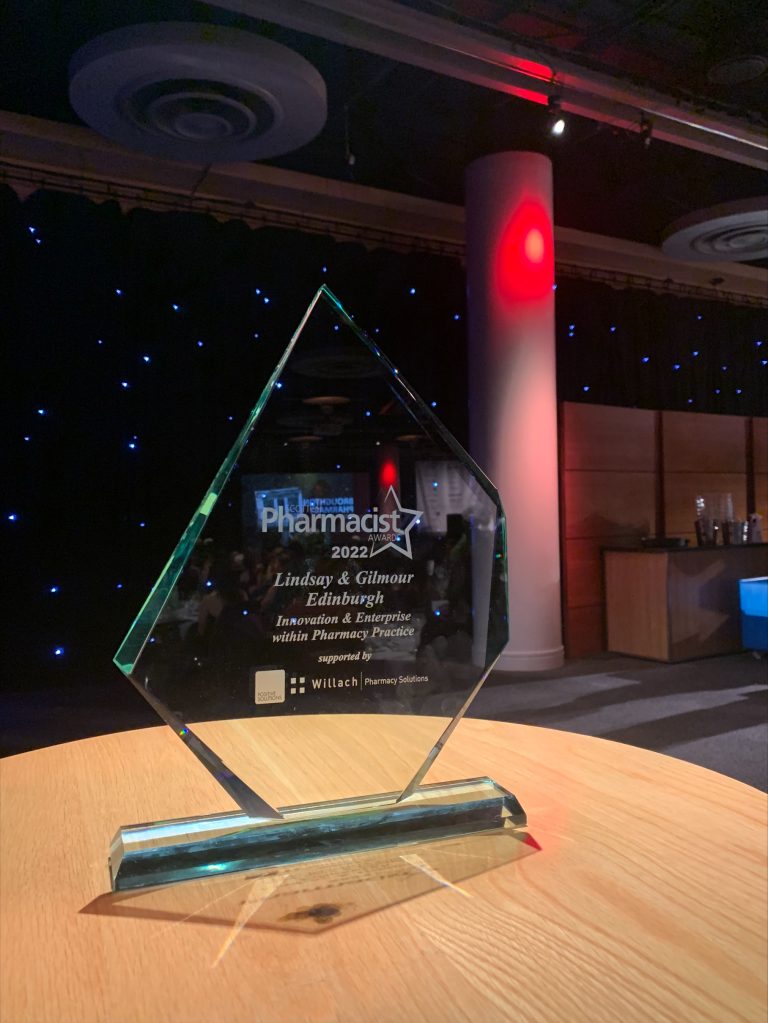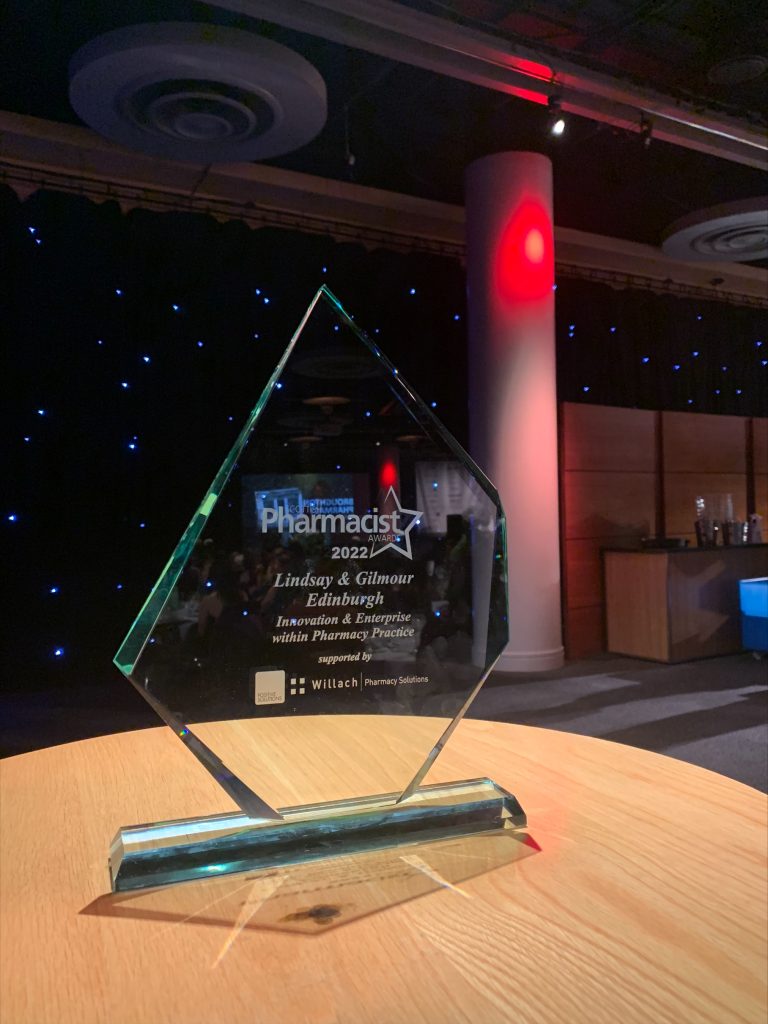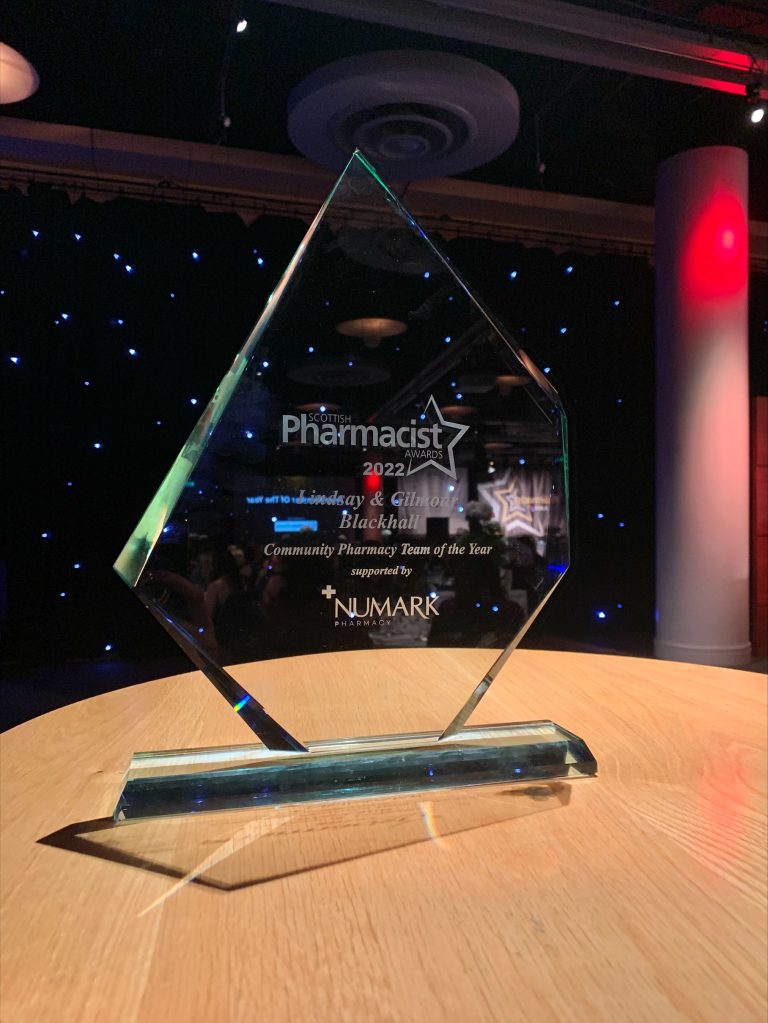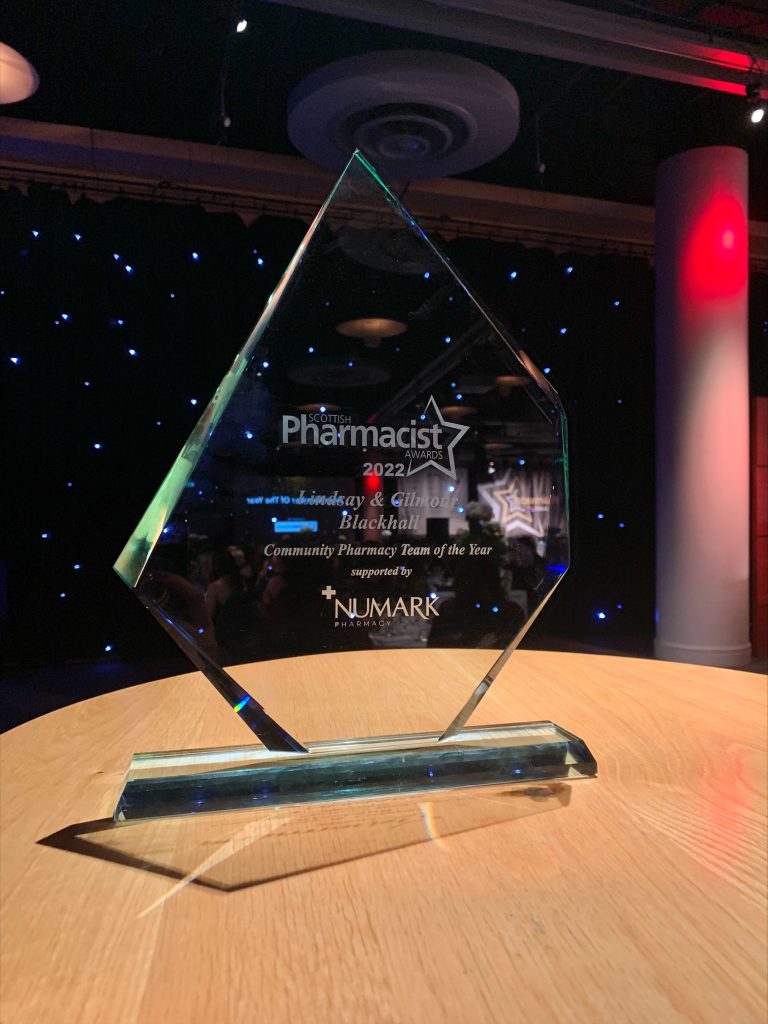 No, you are not seeing double, we won twice at this year's hotly contested Scottish Pharmacist Awards – which recognise the very best in pharmacy practice throughout Scotland.
After tremendous excitement at being picked as finalists and an anxious build-up to the big night itself, Lindsay & Gilmour were thrilled to win in two popular categories. Representatives of the whole L & G family at the glitzy award ceremony in Edinburgh were hugely proud to collect the awards on behalf of everyone who contributed to our success.
We fought off fierce competition to win both Community Pharmacy Team of the Year (for our Blackhall, Edinburgh branch) and Innovation & Enterprise Within Pharmacy Practice.
This is a remarkable achievement, to be selected by the judging panel as winners, and for this recognition to come following one of the most testing times for community pharmacy in our company's history.
Lindsay & Gilmour's Managing Director and Superintendent Pharmacist Philip Galt said: "We were absolutely delighted to win both awards which mean so much to us as one of Scotland's largest independent community pharmacy groups. The trials of the last two years have brought out the very best in community pharmacy as our teams rise to meet the challenges of a global pandemic while supporting our patient's health in the most vital of settings – their local community.
To win even one of these hugely prestigious awards – which attract the toughest competitors in the country – is a massive honour. And, to win two is a fantastic achievement for everyone."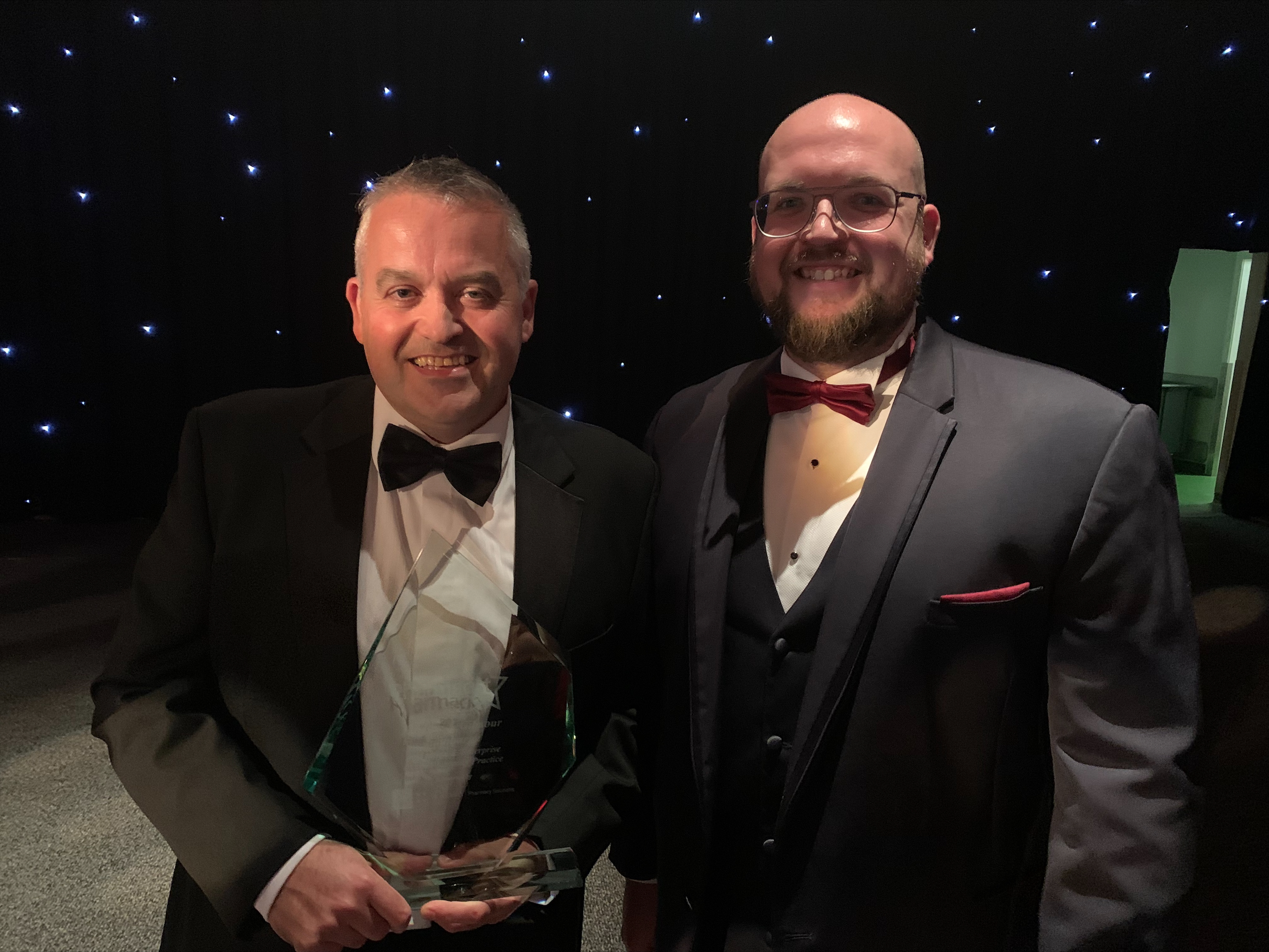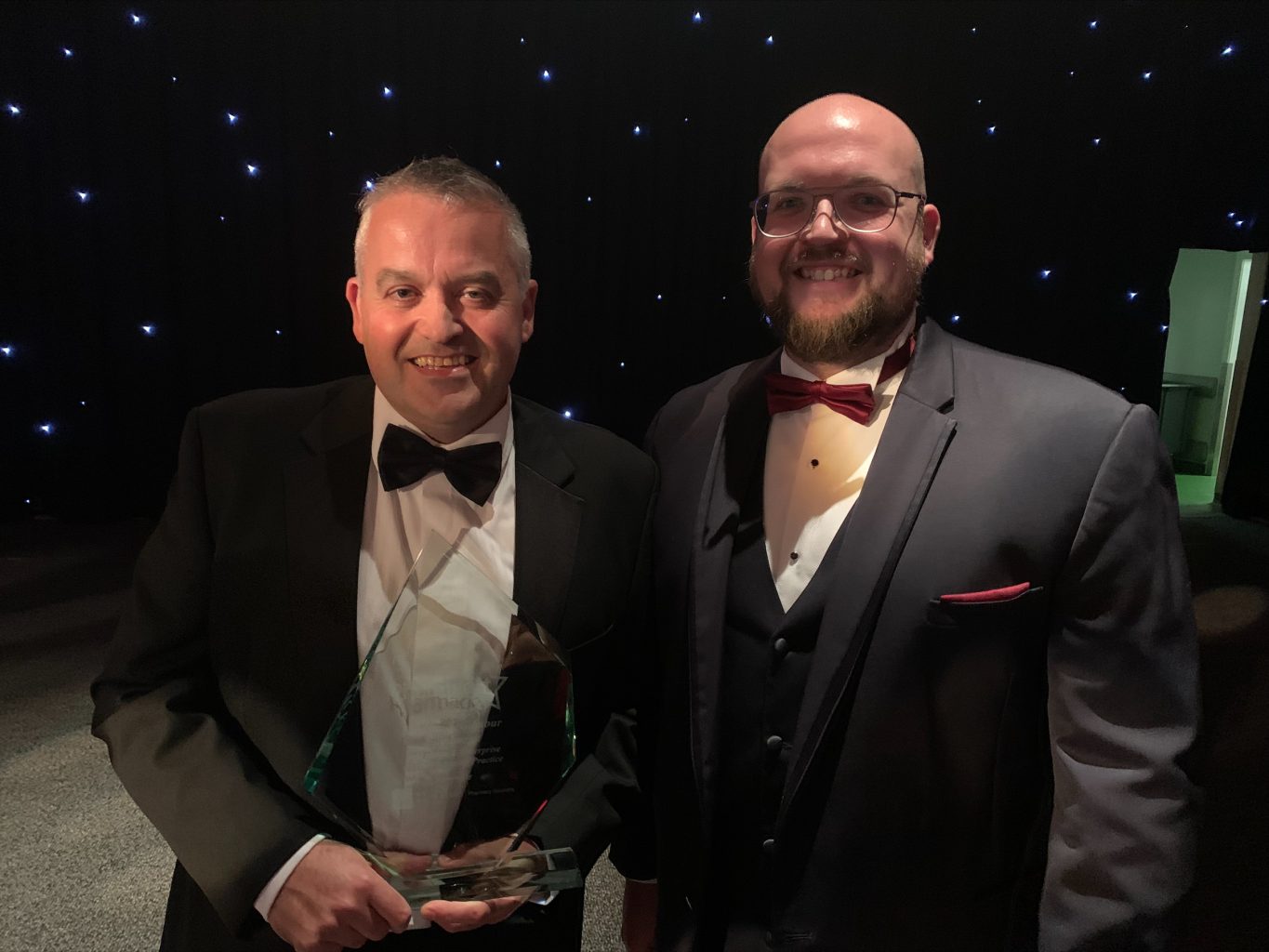 Employee Benefits Awards Success
The team at Lindsay & Gilmour were also delighted to fight off fierce UK-wide competition to win an award recognising the exceptional employee benefits we provide for our employees – the people who are at the heart of everything we do.
Facing competition from some major national and international businesses, including BNP Paribas and Lloyd's Register, we were thrilled to win the award for Best Benefits Communications at The Employee Benefits Awards 2021. The honour recognises our effective and innovative approach to benefits communications, using recognition and reward to double our employee engagement.
We selected Vivup High5 as our solution as it provided the most synergistic approach with our other benefits. It facilitated manager to employee recognition and reward plus peer-to-peer recognition and gave our 'thank you' culture a huge boost at a time when it was needed. Utilising the app to reward our team was a brand-new initiative for us and it worked perfectly. It enabled us to give back to our incredibly hard-working staff during an unprecedented time and saw fantastic uptake.
As a result of introducing this solution:
71% (250) employees have activated their Vivup High5 app
Our employees have sent 666 High5s since launch
We have been delighted to issue £8,647 in rewards so far
Edinburgh Chamber Of Commerce Awards Success
The team were also delighted to hear the news in February that Lindsay & Gilmour had been Highly Commended in the Innovation in Business Category of the Edinburgh Chamber of Commerce Business Awards 2022. Marking our first ever entry to these prestigious awards, the recognition was a great endorsement of the industry leading work we have carried out to ensure that Lindsay & Gilmour is on the cutting edge of innovation in community pharmacy.
The judging panel were particularly impressed by key projects such as our 24-Hour Medicine Dispensing 'Robot', our Electronic Medicine Recording System at The Cross, Inverkeithing and our Patient Access System.
All the innovative developments demonstrated by Lindsay & Gilmour have, in varying ways, contributed to increasing accessibility and trust between potential customers and their community pharmacist. By expanding the range of services available in our pharmacies and finding new and innovative ways to tell people about them, this significantly increases the chances of better health outcomes for the communities we serve.
Association of Pharmacy Technicians UK Awards Success
Lindsay & Gilmour's Awards success continued into April with the news that our Service Development Manager Danielle Brockie was awarded as the joint winner of the APTUK Excellence in Pharmacy Education and Development Award. This very worthy accolade recognises Danielle's outstanding commitment to supporting and developing the education and training of pharmacy teams within Lindsay and Gilmour. The personal contribution Danielle has made to upskilling and developing the potential of our Pharmacy Technicians has made a tangible and significant contribution to the service we can offer our patients within their communities. Among the key projects Danielle has overseen recently are:
Danielle has been responsible for delivering the Award-Winning Electronic MAR training to Care Homes in Fife.
Introducing the NHS Scotland 'Pharmacy First' Champions who are responsible for communicating any changes to Pharmacy First, supporting the in- branch team to embrace the service and engage with patients about the changes.
PGD and Clinical Services Hub. Over the past 6 -12 months, many of our Pharmacy teams have been hard at work expanding the choice of NHS and Private Services we can offer to our patients.Thanks to the dedication and management of Danielle Brockie , this programme responds to customer demand to access specialist health services within a community pharmacy setting.
Recognition of Excellence Awards
And finally (for now!), Lindsay & Gilmour's 'Nuchem' pharmacy in the heart of Edinburgh City Centre, has been selected as a Finalist in this year's Recognition of Excellence Awards. The pharmacy team, led by Manager Lisa-Ann Kearney has been selected to go head-to-head with other UK-wide community pharmacies in the fiercely contested Team of the Year category.