We have a fantastic and rare opportunity for an Accounts Administrator to join our Leith office and support the Company Secretary and her team.
While accounts experience would be advantageous for this role, we are very happy to invest in and support on-site training and development for the right candidate.
Full Time Accounts Administrator (circa 35hrs)
Situated in our Head Office in Leith, key responsibilities include:
Assisting the Accounts Manager to produce monthly accounts
Sales recording
Purchase processing
Bank transaction processing and reconciliations to the bank statement Data management –  using document management process
Other ad hoc accounts and administration tasks as required
If this is of interest to you or you know someone who might be the right fit for this role, please contact Dianne Valentine by email dianne@lindsayandgilmour.co.uk including your CV and a Cover Letter. 
You can also reach out to Dianne directly for more information about the role.
The closing date for this position is Monday 4th October 2021 with a view to the successful candidate starting in the role in early November.
For more information about joining the Lindsay & Gilmour pharmacy family visit our careers page.
We are recruiting now!
Lindsay & Gilmour offer a competitive salary, bonus, holidays, pension, staff discount and an employee benefits scheme as well as opportunities for training and development.
We would encourage you to take a look at our current recruitment opportunities. We have a range of roles available from part-time Saturday Trainee positions to Technicians and Pharmacists. Click here to find out more.
Pharmacy Manager, Stephen Deazley and his team are delighted to unveil our new and improved Blackhall pharmacy. The official reopening takes place from today (24th June), running for one week and will be marked by a ribbon-cutting by our friends at The Thistle Foundation.
We are looking forward to welcoming the local community back into the pharmacy to benefit from a major upgrade in our facilities and during our relaunch week, you can also enjoy:
10% off purchases
A goody bag for all customers
A chance to win £100 worth of vouchers to spend at Lindsay & Gilmour
A free health check which will include blood pressure testing, health advice, glucose testing, stop smoking, diet and lifestyle
As a result of the substantial refurbishment, which followed a flooding incident in the building, the pharmacy has benefited from brand new fittings throughout, increased public space, more IT stations and a larger consultation room allowing for more services in the future. The pharmacy shop area has also been made more customer friendly with greater wheelchair access.
"I am so proud of the resilience of the whole pharmacy team at Blackhall who have remained dedicated to serving their local community throughout a challenging time in the last year. As well as rising to the challenges of the COVID-19 pandemic, the team have had to work in a very limited space as the pharmacy underwent a considerable refurbishment following a bad flood. The pharmacy refit is now complete, and we are delighted with the results. Our patients can look forward to being welcomed and served in a state-of-the art environment by the same dedicated team of pharmacy professionals that make Lindsay & Gilmour so special."

Lindsay & Gilmour Managing Director and Superintendent Pharmacist Philip Galt
£100 Prize Draw
We are keen that as many of our patients and customers benefit from our free NHS app. The ability to access services and manage our health from home was essential during the pandemic and while our doors remained open throughout, we successfully adapted our approach and technology to support our communities remotely.
At the touch of a button, the app makes it easier than ever to order and track your prescriptions. Not only that, you can also benefit from free delivery, stay on top of your medications, set repeat reminders and chat to Stephen and the team at Blackhall for advice and support.
For more information click here or download Healthera from your app store and search for 'Lindsay & Gilmour Blackhall'.
During our relaunch week, if you pop in and show us the app on your mobile device, you will be automatically entered into our £100 voucher prize draw.* No apps? No problem! Chat to the team at Blackhall about our Rewards Scheme to be entered into the prize draw.
The new look for this popular Edinburgh pharmacy will offer patients and local residents an enhanced environment in which to access medical advice, support, and prescriptions at a convenient location and time. For information about our range of pharmacy services click here.
Lindsay & Gilmour are very proud supporters of The Thistle Foundation, a health and wellbeing charity that supports people living with long-term conditions across Scotland to live the life they want.
*Prize Draw terms and conditions.
To be entered into our prize draw to win £100 worth of Lindsay & Gilmour vouchers you must be aged 16 or over. You must be willing to show that you have downloaded the Healthera App and registered Blackhall as your preferred pharmacy on your device. This allows us to contact you through the messaging platform to announce the winner of the prize draw. The winner will be drawn and notified on Monday 5th July 2021. In the event you do not have a smart device, please enter our prize draw by signing up for L&G Rewards. This allows us to contact you by phone or email to announce the winner. Entries are open in-store from 24th June - 3rd July. Please ask a member of the pharmacy team to submit your entry. Voucher is non-transferable. It cannot be exchanged for cash in part or in full. Voucher is valid for a period of 12 months from the date of issue and can be redeemed at Lindsay & Gilmour, Blackhall - 22 Hillhouse Road, Edinburgh EH4 2AG.
Apply now for 2022/23 Pre-reg Training with Lindsay & Gilmour.
Summer is fast approaching, which in our world means many pharmacy students are busy preparing for pre-reg interviews. This year is a little different. You might notice a small change because the pre-reg training year is now called the Foundation Training Year.
The on-the-job training on offer is more supportive and comprehensive than ever, which is a great opportunity for trainee pharmacists and reflects the ever-evolving role of a pharmacist and the important part pharmacy plays on the NHS frontline.
The name may have changed but the practical nature of the training has not. We are excited to support new trainees on their journey to becoming skilled managers and person-centered, professional pharmacists.
"I would absolutely recommend students do their training year with Lindsay & Gilmour. It is well equipped to support students. A great team of people with an excellent tutor."

Shuaib Hanafi
You can apply to us direct for both Summer and Foundation Training Year placements by sending your CV and cover letter to placements@lindsayandgilmour.co.uk.
2022/23 Foundation Year Training interviews are taking place on 15th June 2021. We also have a limited amount of 2 week summer placement blocks available, so do reach out to us now to enquire. We are very happy to help!
Hear from our pre-reg pharmacist, Shuaib Hanafi. He has kindly shared his story: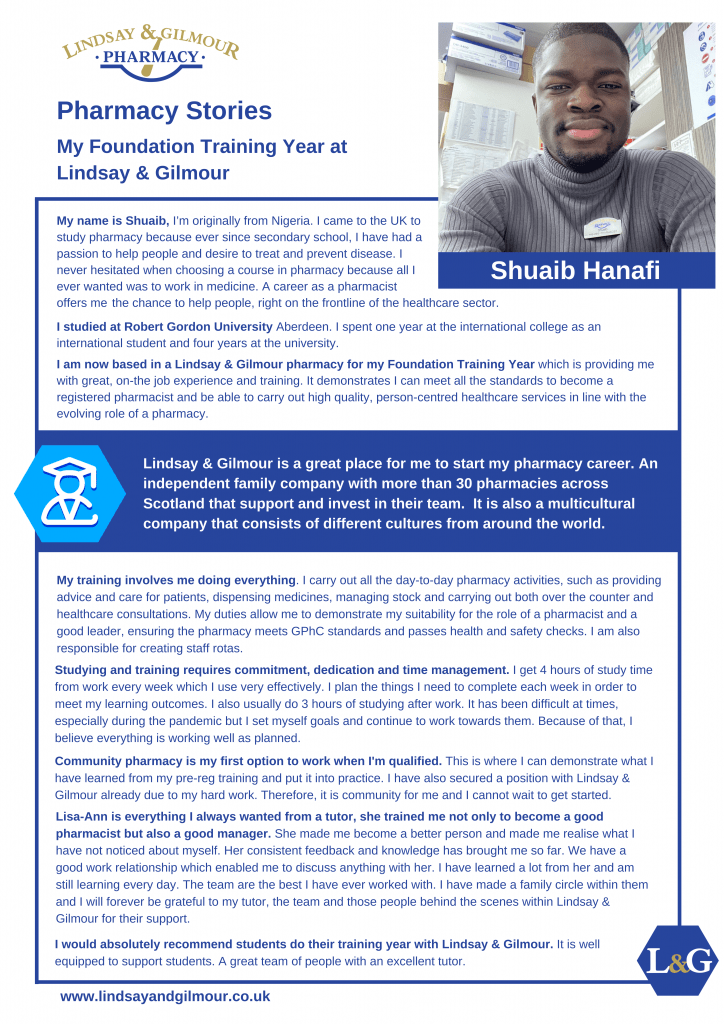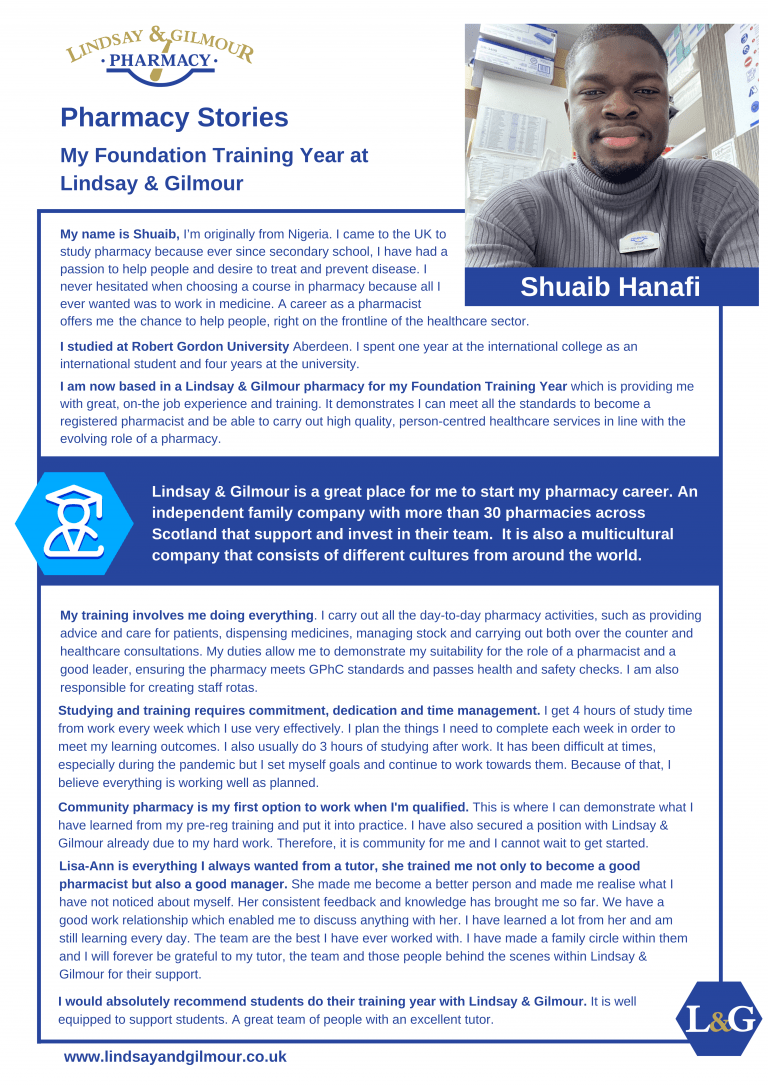 The story from the perspective of community pharmacists on the NHS frontline
By Philip Galt, MD and Superintendent Pharmacist, Lindsay & Gilmour.
On 23rd March 2020 lockdown became mandatory.
Coronavirus showed us all how quickly life can change, and this certainly applies to your local pharmacies, which stepped up to do their duty – and more – during the pandemic.
A year on from when the virus hit our shores, pharmacy teams across the country are weary, but proud of their work on the NHS frontline and determined to 'keep calm and carry on'.
With GP surgeries, opticians and dentists forced to suspend services or provide care remotely, many patients have turned to pharmacy teams for face-to-face help in the community. By November 2020, over a third of people had gone to their pharmacy for advice because their GP was unable to see them face-to-face due to COVID-19 safety measures at the surgery.
As the virus took off, each of our 30 Pharmacy teams across Central Scotland, Fife and The Borders had to juggle ever busier, longer and more stressful days.
At Lindsay & Gilmour, both our online prescription management service and free home delivery service grew in demand exponentially. This, in turn, played a vital role in protecting hospital beds and secondary care resources available for those who were directly affected by COVID-19.
During the peak of the crisis, our prescription volumes were 30% up on previous years (some individual pharmacies saw increases of over 50%) because of concerned patients panic ordering medicines.
We also experienced a huge increase in telephone queries from anxious patients – across our business we saw an increase of over 100,000 inbound calls in March alone.
Demand for our delivery service also increased – with an increase of over 8,500 deliveries in one month.
Perhaps inevitably there was a surge in demand for medicines and the public began to worry about shortages. By and large, pharmacies (and the rest of the supply chain) were able to keep the flow of medicines coming. It relied on people being responsible and only buying the medicines and supplies that they needed at that moment to treat themselves and their families. We also asked patients who take medicines for a long-term medical condition to order repeat medication in plenty of time, to avoid unnecessary delays.
The vast majority of patients were magnificent throughout, and pharmacies were inundated with offers of support from managing queues to delivering medicines. We cannot thank those people enough!
In the early days of the first lockdown, pharmacies had to think quickly about how to manage the flow of patients. This coincided, in Scotland, with the introduction of the new NHS Pharmacy First Scotland service this year. It put community pharmacists centre stage as the first port of call to advise all members of the public on the management of self-limiting illnesses and stable long-term conditions.
At the same time, our teams worked tirelessly to ensure that all aspects of our in-pharmacy environment put the health and wellbeing of our patients and colleagues first with COVID compliant PPE and markings in place in every one of our pharmacies.
The arrival of COVID-19 has also accelerated movement towards many customer centric technologies that could have long term advantages for community care. These include:
The introduction of NHS Near Me, NHS Scotland's video consulting service which is being trialed in several pharmacies with a view to rolling it out to all Scottish pharmacies soon.
More people than ever are also signing up to free online prescription ordering and delivery services – in our case several thousand over the past few months, making the management of your medicines easier and more efficient.
A year on and, thanks to the vaccines, there is now light at the end of the tunnel.
Success for vaccinations is not only about total numbers receiving jabs, but also the reach into communities, including certain ethnic minority groups. The public has a high level of trust in their local pharmacies and that can be an important factor in overcoming doubts and misapprehensions about COVID-19 vaccines – including within some BAME communities where take-up has been lower.
COVID-19 has underlined the key role pharmacies have as part of the NHS family. Pharmacists have worked closely with other professionals, such as doctors and nurses, to provide the best possible care as part of the local healthcare team.
The pandemic has also shown the importance of having a vibrant network of pharmacies operating close to where people live, work and shop. How on earth would the NHS have coped with the pressure otherwise?
We are delighted at the reaction of the public to our efforts. People recognise that pharmacy teams across the country have stepped up and saved lives. A National Pharmacy Association survey shows that 89% of people believe pharmacies are playing an essential role in the COVID19 crisis.
At Lindsay & Gilmour, we will continue to do our utmost for our patients and communities, who have been through so much and deserve nothing less.
We are delighted to announce that the Lindsay & Gilmour Pharmacy family is growing. On the 1st of February, we welcomed Balerno Pharmacy. This vital and popular health resource, located on Balerno High Street, has served the busy West Edinburgh community under the ownership of the now-retired Christine Lawrie since 2001.
The pharmacy team in Balerno will operate alongside Lindsay & Gilmour pharmacies in the neighbouring villages of Currie and Juniper Green and with the support of the existing staff team, we look forward to getting to know the community.
"My colleagues and I at Lindsay & Gilmour are absolutely delighted to welcome this fantastic pharmacy which sits in the heart of the Balerno village.  We are very much looking forward to getting to know the pharmacy team who have a very special place in the lives of the surrounding community and, of course, to serving the health and medicine needs of our patients and customers.   Lindsay & Gilmour is very much a family business and we are so pleased to have the opportunity to expand our family's reach in the West of Edinburgh."

Lindsay & Gilmour Managing Director and Superintendent Pharmacist Philip Galt
The acquisition comes as Lindsay & Gilmour pharmacy teams across Scotland continue to provide our valued patients and customers with the highest possible standard of healthcare.
We welcomed the launch of the NHS Scotland Pharmacy First service at all of our pharmacies as it allows our expert team to do more to help the patients and communities we care for.
Our doors remain open for on the spot health and well-being support while continuing to operate in a COVID secure way.
More about NHS Scotland Pharmacy First
Everyone in Scotland can now access advice and appropriate treatment for minor illnesses and common health complaints from their local pharmacy without the need for a GP appointment.
We understand you might be worried about access to medicine and treatment following The Scottish Government announcement that Scotland will return to Tier 4 on December 26th.
Therefore, let us reassure you:
Preparations have already been made to reduce any risk to medicine supply
The NHS has stock holdings so you don't need to stockpile
You DO NOT need to do anything differently
Prescriptions will be issued as normal
Our doors remain OPEN
Our staff are specially trained to offer not only advice for common health complaints but also FREE NHS treatment as part of the NHS Scotland Pharmacy First service
Our pharmacies are ONLY closed for 4 days over the festive period - Christmas Day (25th Dec), Mon 27th Dec, New Year's Day (1st Jan) and Mon 4th Jan
Pharmacy opening hours, services and FREE home delivery are NOT impacted by Tier 4 restrictions
WE ARE PREPARED SO NO NEED TO PANIC
We've got you covered, so remember to be kind and patient with us and each other.
Our promise to you is our team will continue to work hard to best support your health needs and answer any of your concerns. Even if you're unable to visit us in person, you can reach your local pharmacy by phone or by messaging us through our NHS approved app.
LOOKING AFTER YOURSELF
These are worrying and uncertain times. The coronavirus outbreak has changed the festive period for many people in Scotland and has had a real impact on how many of us are feeling.
Whether you have been directly affected by the virus, or are struggling to cope with the restrictions, it is important to look after both your physical and mental health. Visit www.clearyourhead.scot for practical advice on how to look after your mental wellbeing, and sources of support if you need to talk to someone.
For the latest COVID guidance visit NHS Inform.
Lindsay & Gilmour have fought off the toughest UK-wide competition to win a prestigious award for Best Pharmacy Design in this year's highly coveted Chemist and Druggist Awards.
Scotland's oldest pharmacy group was chosen by a judging panel of industry experts to win the top prize in this week's virtual ceremony, in recognition of their outstanding re-design of The Cross Pharmacy in Inverkeithing.
The pharmacy team and wider business have created the group's first ever 'Care Home Hub' with an entirely dementia friendly environment and worked closely with an architect to ensure that the materials, textures, colours and contrasts were dementia friendly.
In addition, the dispensary area is more open and visible to patients, a new consultation room provides space for a full range of private services and the basement has been repurposed as a care home dispensary to service local homes.
The Chemist and Druggist judging team described it as "A very well-designed pharmacy to care for patients with different needs."
"We are absolutely delighted to be awarded 'Best Pharmacy Design' in the much-coveted Chemist and Druggist Awards 2020.  The whole team at The Cross, Inverkeithing and across the wider company have worked tirelessly to create a specially adapted pharmacy to meet the needs of vulnerable care home residents and the local community.  This accolade is the perfect recognition of their exceptional work and I'm hugely proud of all those who contributed to this success. "

Philip Galt, MD and Superintendent Pharmacist at Lindsay & Gilmour
During the extensive re-design, many local customers who remember the pharmacy's previous guise as a sweet shop were fascinated to see the uncovering of old wallpaper dating back many decades, as well as discovery of features such as an old coal chute.
The pharmacy team at The Cross look forward to welcoming patients and visitors to their award-winning community resource soon.
WE REMAIN OPEN TO EVERYONE
After the news on Tuesday that many of us will return to a near-full lockdown on Friday 20th November, we want to reassure our patients and customers this will not impact the current access and level of service you enjoy at your local Lindsay & Gilmour Pharmacy.
HERE FOR YOU
The First Minister confirmed that 11 local authority areas across Central Scotland, including West Lothian and Lanarkshire will enter the highest Level 4 restrictions for 3 weeks.
We are very proud to be a key NHS service provider and as such all of our pharmacies remain open.
Lindsay & Gilmour pharmacies have already implemented procedures to ensure your safety and protect our team. These measure will continue and we ask that you please remember to comply with the following guidance:
do not enter your local pharmacy if you have tested positive or have developed any COVID-19 symptoms
you must wear a face covering within our pharmacies unless exempt
it is important to follow directional signs, one way systems and pharmacy capacities
always maintain a 2 metre physical distance between people outwith your household (or extended household)
Our opening hours are listed on our website. We will not be making any changes to those published at this time.
FESTIVE PREP
While we do not encourage stock piling prescriptions, it is worthwhile checking your medicine supplies to identify and plan for anything you may need in the coming weeks.
If you require any advice about your medication and how best to plan for the festive period and bank holiday closures, please do get in touch with your local Pharmacist.
This is the advice we give our patients every Christmas so please don't panic. We are here to help.
SHIELDING OR SELF-ISOLATING
In the event you cannot reach your local pharmacy in person, there are a number of ways we can support you. You can:
download our app (Healthera) to order & track your prescriptions using your mobile device
use the chat function on the Healthera app to message your preferred pharmacy for advice
arrange FREE contactless delivery to your door
access phone & video consultations for advice & treatment for minor illnesses (see Pharmacy First or below for more info)
PHARMACY FIRST
As part of the new NHS Scotland Pharmacy First service, our team can now support you with a clinical consultation by phone, video call or in person at all of our pharmacies.
If you are suffering from a minor illness or common health complaint, please contact or visit your Pharmacy for advice and treatment for your symptoms.
The pharmacy team can also support you with a referral to another healthcare provider where necessary.
You can find out more about the Pharmacy First Service on our website.
STILL IMPORTANT TO WASH YOUR HANDS
Keeping your hands clean is one of the simplest ways you can protect yourself and stop the spread of coronavirus. It is important to:
regularly wash your hands with soap and water for at least 20 seconds
avoid direct hand contact with your eyes, nose and mouth
SAFE SPACE
The tier system in Scotland and any advice to stay at home does not prevent anyone from taking action to keep themselves safe from domestic abuse. If you or someone you know is experiencing violence or intimidation, call Scotland's Domestic Abuse Helpline on 0800 027 1234 or go to www.safer.scot.
All of our pharmacies also offer a SAFE SPACE for anyone who needs help. This service is completely confidential.
You can continue to access Primary Care Out of Hours Services by contacting NHS 24 or 111.
If you are experiencing symptoms of COVID-19, please call 111 and in any medical or health emergency always call 999.
Click here to access the postcode checker for COVID restrictions by protection level in areas of Scotland.
For the latest COVID guidance visit NHS INFORM.
By Philip Galt. MD and Superintendent Pharmacist, Lindsay & Gilmour
On 29th July 2020, The Scottish Government launched the new NHS Pharmacy First Scotland service, replacing the Minor Ailment Service which has been in place since 2006 and marking the single biggest change to community pharmacy practice in recent times.
Pharmacy First will shine a light on community pharmacists in their centre stage role as the first port of call to advise all members of the public on the management of self-limiting illnesses and stable long-term conditions.
To mark the launch, which was delayed due to the COVID-19 pandemic, Community Pharmacy Scotland unveiled a report revealing that community pharmacy teams across Scotland give advice- only consultations 84,000 times a week. That equates to a remarkable 1.67 times every hour. At no cost to the patient and with no appointment necessary.
Is there any clearer demonstration of the largely unrecognised role that community pharmacists have daily which reaches far beyond the supply of medicines and prescriptions?
Community pharmacists demonstrated incredible resilience and fortitude from the front line of the COVID crisis, ensuring that as many people with minor medical needs and long-term conditions were kept safe at home. At Lindsay & Gilmour, both our online prescription management service and free home delivery service grew in demand exponentially. This, in turn, played a vital role in protecting hospital beds and secondary care resources available for those who were directly affected by COVID-19.
Coupled with the remarkable show of commitment and sacrifice from the general public to adhere to lockdown restrictions, this meant that our treasured NHS was not overwhelmed – even during the peak of the crisis. And, as we move tentatively towards the Autumn months with the threat of a second wave knocking at our door, I am more confident than ever that my colleagues across the community pharmacy network will once again step up to the mark should the need arise and continue to selflessly protect the health of our communities from this threat.
But, crucially, what this report from Community Pharmacy Scotland shows is that community pharmacists are so much more than experts at medicine supply. Their contribution to the National Health Service has three equal and essential components:
Advice on your symptoms, Referral to other services and Treatment if recommended. Or, as has been eloquently summarised by the CPS report, The ART of community pharmacy.
And it is an art. Because, to so many of the colleagues that I have worked with over the years, it is often that privileged role to meaningfully consult with their patients on their unique health needs in an environment where they feel comfortable and more 'at home' that makes their career so rewarding.
The CPS report goes on to state that the three highest rated reasons for choosing to access care from community pharmacy were: convenient location, existing relationship with the pharmacy already, and having accessed the service before.
The number of referrals reported from each site was also consistently low, suggesting that community pharmacy is able to manage and appropriately provide care for those accessing its services and evidencing itself as the appropriate first point of call in most cases.
I find this particularly encouraging as a potential employer of the next generation of pharmacy professionals. With increasing scope for our pharmacists to qualify as Independent Prescribers and a greater emphasis on the consultation and triage role we have every single day, so in turn will a career in community pharmacy attract talented and committed young students.
Time alone will tell how Pharmacy First Scotland is received with the public and pharmacy teams over coming months but I'm confident that this emphasis on patient interaction and autonomous decision making will increase the appeal of community pharmacy to those considering the profession.
They are, after all, our future.
The First Minister announced today that from the end of next week, face coverings in shops will be made compulsory. The two-metre social distancing rule will also remain applicable.
In line with this guidance, our customers and patients will be required to wear a face mask upon entering any of our pharmacies from Friday 10th July 2020.
This change in legislation does however allow for exemptions in specific cases, including if the person visiting our pharmacy has a disability or condition that means they cannot put on, wear or remove a face covering.
More information will follow shortly but we would encourage the public to prepare for this change in our branches and would like to thank you in advance for your support. It is crucial we all continue to follow the government guidelines in order to best protect ourselves and others.
Please do not be put off visiting your local community pharmacy for treatment, advice and medicines. All of our branches are open and our teams are on hand to help.
Don't worry if you forget your face mask
We have stock of face masks (including reusable brands) that can be purchased in the event you forget your own. Please alert a member of our team for assistance.
Telephone consultations
Whether you are shielding or simply wish to limit your exposure and would prefer a telephone consultation with one of our pharmacists, please contact your local Lindsay & Gilmour via our app or by phone. We are also happy to arrange delivery of essentials, over the counter items and prescriptions. Please ask your pharmacist for more information.
Think 'Pharmacy First'
You know we are medicine experts but did you know that we can help with clinical advice and treatment for minor illnesses? Most of our pharmacies are open until late and at the weekend, providing access to a healthcare professional without the need for an appointment.
Our pharmacies have been designed to include a safe and private space so our patients and customers can benefit from same-day consultations with our specially trained pharmacists.
Our consultation rooms adhere to social distancing rules and we are very happy to see patients as long as they are wearing a mask. Our staff will of course be wearing full PPE.
Video consultations
We are also delighted to confirm that a number of our pharmacies are now equipped with technology to support video consultations. This will benefit customers and patients who would prefer not to, or are unable to meet with a pharmacist in person. In the coming weeks, this service is expected to be available in all of our 31 branches across Central Scotland, Fife and The Borders.
For all the latest coronavirus guidance from NHS Scotland and The Scottish Government visit NHS Inform.
For more information about face coverings please visit the government website or ask a member of our team.
Phoebe Riley applied for a Customer Support role with Lindsay & Gilmour to help others and discovered that working on the frontline during a pandemic also benefitted her own mental health and wellbeing.
Originally from Melbourne, Australia, Phoebe is 26 and smiles broadly with her eyes (it's all I can see over the top of her face mask) as we enjoy a first virtual meeting.
Phoebe moved to the UK in 2018 and has been living in Edinburgh since October last year.
"I love Edinburgh, it's so pretty. But I went from extreme tourism and a house-share to a very lonely lockdown, which was hard!"
Far from family, Phoebe found herself without purpose or people by March 2020 when those she shared a house with left in response to lockdown restrictions. She describes finding herself completely isolated. Nuchem Pharmacy Manager, Lisa-Ann Kearney says her patients have benefitted from how Phoebe has been able to relate to their shared experience.
"Phoebe is able to relate to the most lonely and vulnerable in our community and as a result, she has gone above and beyond to proactively support patients who are shielding or living alone"

Lisa-Ann Kearney, Nuchem Pharmacy Manager
Joining the Lindsay & Gilmour Pharmacy at Piersfield Terrace, Phoebe regained not only a sense of purpose and income but a community that has become her pharmacy family.
Throughout my conversation with Lisa-Ann and Phoebe, it's clear they have pulled together like a loving family in a crisis. Lisa-Ann has been busy, in her limited spare time, making ear savers to help with the discomfort of PPE and masks for her team to wear, even out-with work, so they feel protected travelling to and from the pharmacy. Food is also a big feature, with home baking, recipe sharing and plans for a culinary feast post lockdown which will celebrate the mixed cultural heritage of the team at Nuchem.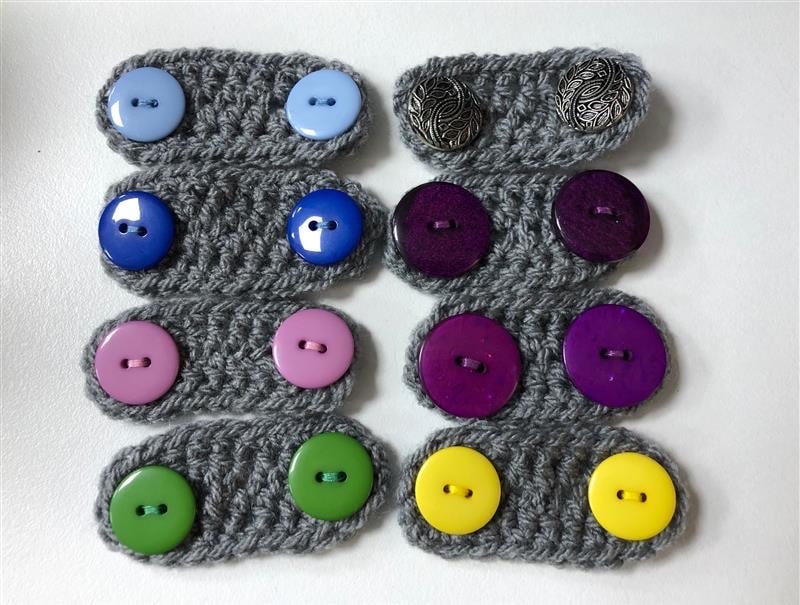 In response to the COVID-19 pandemic and increased demand and pressure on community pharmacies, Lindsay & Gilmour acted quickly to create a new role and recruit Customer Support Representatives like Phoebe for several of their busiest pharmacies.
"We have maintained an atmosphere of calm which has definitely supported our patients and customers. It was important to have a friendly face managing the flow of footfall and support us with the increase in workload. Very quickly, Lindsay & Gilmour implemented measures to protect us and allow us to stay open and operate safely, such as screens, PPE, floor spots and boundary tape to demonstrate the 2m social distancing rule." Lisa-Ann
In line with the results of a National Pharmacy Association survey, Lindsay & Gilmour pharmacies have seen a 30% increase in prescriptions since the beginning of lockdown.
Home deliveries have more than doubled during the same period and in March inbound calls to pharmacies increased by 385%
Despite having never worked in a pharmacy environment before, Phoebe was likely drawn to the sector because her sister has worked in the sector for more than a decade.
"I was nervous about being alone and know I perform well in customer-facing roles. I wanted to play a part and add value to the local community in response to the COVID-19 outbreak and I've always been interested in the healthcare profession." Phoebe
And Phoebe hasn't experienced any negatives… "I can't believe how grateful people are to me for just doing my job"
Phoebe would highly recommend a career in pharmacy for anyone who thrives in a busy, customer-focused environment. She describes the position as being a great opportunity to learn.
Lisa-Ann and the team have commended Phoebe's 'can-do' attitude and talk fondly about how much they all love Phoebe and appreciate her initiative, willingness to learn and the fact she's not fazed by anything - which has been and continues to be a huge asset to the pharmacy.
It certainly sounds like the customers and patients of this Piersfield Terrace pharmacy are in safe, supportive hands. And Lindsay & Gilmour's response to COVID19 has, in this case, offered a lifeline to both Phoebe and the local community who depend upon continued access to healthcare expertise, services and medicines from their local pharmacy.
If Phoebe's story has inspired you to consider a career in pharmacy, check out our website for more information, or please get in touch. Building a career in pharmacy can be done without the need for qualifications. We provide training and support and various flexible working options to allow you to pursue your dream job in community healthcare.
Click here to read about Danielle's experience of working for Lindsay & Gilmour, which started with a work experience placement when she was 15 years old.
We are delighted to confirm that Lindsay & Gilmour is supporting charity Hestia's UK SAYS NO MORE campaign by setting up a Safe Space in all of our pharmacies.
From today, victims of domestic abuse will be able to access Safe Spaces in our 31 pharmacies across Central Scotland, Fife and The Borders. Our specially trained pharmacy teams are on hand to help anyone experiencing domestic abuse during this particularly difficult time, when we are confined to our homes.
Upon visiting or reaching out to your nearest Safe Space, you will be provided with the support you need and access to specialist services.
To find out more information about the campaign, please visit: https://uksaysnomore.org/
Are you feeling ill at ease due to isolation?
It's not always easy to recognise when stress is the reason you're feeling or acting differently.
We are all being asked to do things that are pretty alien to us; stay at home, avoid contact with family and friends, limit our time in public and the latest Scottish Government advice includes us wearing face masks when we venture out to do our weekly food shop.
It's unsettling and it certainly isn't easy. We are living through challenging times thanks to Covid-19 and while there is great emphasis on our physical health and the symptoms of the virus, we are all in danger of neglecting our mental wellbeing, missing the signs of stress and the damage it can do.
Your mental health is just as important as your physical health. Here are a few tips to try to reduce or manage your stress levels at this difficult time:
Reduce alcohol intake - alcohol is a depressant when taken in large quantities, therefore using alcohol as a way to alleviate stress is not ultimately helpful.
Prioritise physical activity - it can help reduce stress levels, cope with frustration, give you a sense of achievement and provide some important "me time", all of which help with stress.
Get more sleep - you should aim to go to bed at roughly the same time each day so that your mind and body get used to a predictable bedtime routine.
Try relaxation techniques - each day, try to relax with a stress-reduction technique. There are many tried and tested ways to reduce stress so try a few and see what works best for you.
Talk to someone - Just talking to someone about how you feel can be helpful. We have private consultations rooms at all of our pharmacies so don't be afraid to ask your pharmacist for help or advice.
There are some great resources on the Parent Club website, including mental health advice for parents during lockdown or visit the NHS Inform website to access online support and advice on how to look after your mental wellbeing while staying at home.
It's important during this time of crisis and lockdown that we look after ourselves and the people around us. Your local community pharmacy is open and available to help you stay well in body and mind, so please do contact us or refer to the online help mentioned above if you are in need of support.
For all the latest advice & information about Coronavirus please visit NHS Inform or Health Protection Scotland
Contact a Samaritan if you need someone to talk to. You can call the free helpline 116123 any time, day or night.
PROTECT YOURSELF & OTHERS
Please do not enter our pharmacies if you think you have symptoms of COVID-19. These include:
A new continuous cough
High fever
Shortness of breath
Instead, please return home immediately and seek advice from:
The Free Helpline - 08000282816
If your symptoms worsen call 111
Community Pharmacy in Scotland continues to operate on the frontline to support the National healthcare response to the COVID-19 pandemic.
We would like to take this opportunity to thank all of our colleagues, suppliers, and patients for their support during this unprecedented and uncertain time.
Thanks to an amazing effort by our pharmacy teams, we are now in a position to increase our patient-facing opening hours.
It's not quite 'business as usual', but we have worked hard to adapt our service to work both efficiently and safely to meet the needs of our 'new normal'.
As such, we are very pleased to confirm that all of our pharmacies have returned to their usual opening hours. The full list of which can be found on our website.
While this marks a return to 'normal', it is worth noting the changes you will encounter when you visit our pharmacies, such as:
Restrictions on the number of patients allowed in the pharmacy at any one time - please respect the guidelines at your local pharmacy and heed the advice of our team
Protective screens - these have been designed and installed to protect both our staff and our patients
Signage - this could be anything from floor markings to support the 2m rule or posters and banners that communicate the latest Coronavirus advice
Face masks & gloves - personal protective equipment is used as a preventative measure, not because a staff member is infected so please don't be alarmed
As the situation is constantly evolving, we would ask for your patience and understanding in the event we are forced to adjust our opening hours at short notice.
This will only ever happen because we remain committed to protecting the health and well-being of both our staff and patients and we will do our very best to make you aware of any changes as soon as possible.
PROTECT YOURSELF & OTHERS
Please do not enter our pharmacies if you think you have symptoms of COVID-19. These include:
A new continuous cough
High fever
Shortness of breath
Instead, please return home immediately and seek advice from:
The Free Helpline - 08000282816
If your symptoms worsen call 111
Community Pharmacy in Scotland continues to operate on the frontline to support the National healthcare response to the COVID-19 pandemic.
We would like to take this opportunity to thank all of our colleagues, suppliers, and patients for their support during this unprecedented and uncertain time.
In response to the latest public health advice, changes to pharmacy opening hours have been introduced across Scotland to better support patients & frontline healthcare staff.
At present, Lindsay & Gilmour pharmacies are facing unprecedented demand and are much busier than usual. We are incredibly grateful to our team who have shown great commitment and resilience through what is an incredibly unsettling time for us all.
As an organisation we are working tirelessly to support the communities in which our pharmacies are based and our team proudly live and work.
Please be assured that any changes in our service are taken to limit exposure and ultimately protect both our patients and our staff so we can continue to provide critical pharmacy services.
We would, therefore, like to advise patients that our pharmacies will now be open to the public at the following times:
10am - 1pm
and
2pm - 5pm
If your prescription is not urgent please consider downloading our app to manage your repeats remotely and benefit from free delivery.
Manage your medicines from home using our NHS approved app
This service is available to everyone and under the current social distancing guidelines, provides the safest way to order and track your prescriptions as well as providing a chat function, where you can message your local pharmacy from home.
Please see our website for more information or download Healthera from the App Store or Google Play and search for 'Lindsay & Gilmour' to select your local pharmacy.
Don't stockpile prescription drugs
We understand this is an anxious time and while we are reducing our patient-facing opening hours, please only order what you need and allow us more time to prepare your medicines safely.
The team at Lindsay & Gilmour would like to thank you, so very much, for your patience and understanding during this period of great uncertainty for us all.
We remain dedicated to our unique role within Scotland's communities and will continue our efforts to keep you safe and well.
Please remember, For all the latest advice & information about Coronavirus please visit www.nhsinform.scot  or https://www.hps.scot.nhs.uk/a-to-z-of-topics/covid-19/

Earlier today, the Government announced that confirmed cases of coronavirus in the UK continue to rise, with two further cases in Scotland. This situation is evolving constantly and we as Pharmacists will meet our front-line challenge to provide the public with the most convenient and effective advice and service possible to reduce the spread of the virus.
The message is clear. Now is a time for precaution rather than panic. This is peak season for respiratory and flu-like illness. There will be cases presenting with symptoms of cough, fever and shortness of breath, but these are highly unlikely to be novel coronavirus.
As is clearly stated in their advice, The Government and NHS are well prepared to deal with this virus and have established public health and infectious disease experts working round the clock, but you can help too. The best way to protect yourself and others is:
Wash your hands with soap and water, or use a sanitiser gel, regularly throughout the day.
Catch your cough or sneeze in a tissue, bin it, and wash your hands. This is the best way to slow the spread of almost any germs, including Coronavirus
If you recently arrived back from mainland China, Thailand, Japan, Republic of Korea, Hong Kong, Taiwan, Singapore, Malaysia or Macau in the previous 14 days and are experiencing cough or fever or shortness of breath, you should to stay indoors, call your GP or if your surgery is closed ring NHS 24 (111) informing them of your symptoms and your recent travel
Do not leave home until you have been given advice by a clinician.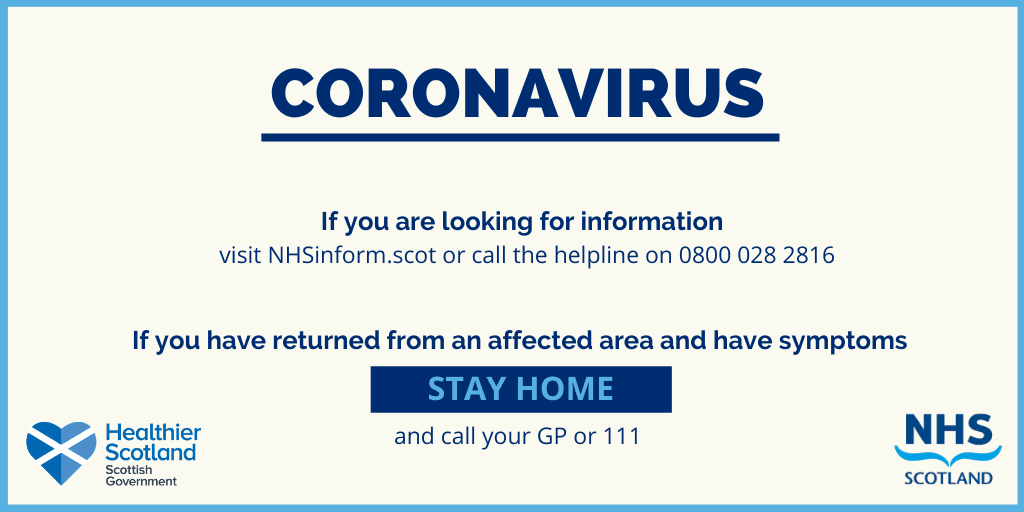 The online medicine management and delivery service offered by Lindsay & Gilmour will help patients to order repeat prescriptions and keep control of their health from the comfort of their own home.
For more information on how this service and our FREE NHS App might help you, please visit our website to find out more or speak to your local pharmacy for advice. It's never been easier to manage your medicines AND benefit from FREE DELIVERY.
Please remember, For the latest advice & information about Coronavirus please visit www.nhsinform.scot or call the helpline 08000282816. There is also a Q&A on coronavirus available via the World Health Organisation website: https://www.who.int/news-room/q-a-detail/q-a-coronaviruses  
Lindsay & Gilmour have been confirmed as shortlisted finalists in multiple categories for The Scottish Pharmacist Awards 2019/20
What better way to kick off the new decade than with news that the hard work and commitment of the Lindsay & Gilmour team has been recognised with shortlisting in three categories at this year's Scottish Pharmacist Awards.
We fought off tough competition from many of our peers across pharmacy practice in Scotland, under scrutiny from a specialist judging panel, to reach the shortlist in the following categories:
Training and Development
Pharmacy Business Development
Innovation & Enterprise within Pharmacy Practice
These categories are especially important to us as we continually strive to lead the way with pioneering business practice, innovation and training across the pharmacy sector. We are driven to ensure that Lindsay & Gilmour remains the community pharmacy of choice, delivering the highest standards of patient outcomes at every one of our pharmacies.
This recognition is very much a result of a team effort and we will all be keeping our fingers' crossed for success at the Awards night itself in February.
Wishing a Happy and Healthy New Year to all our customers, patients and colleagues!
Lindsay & Gilmour staff took to the streets of Edinburgh yesterday to raise funds to enhance the lives of those experiencing chronic illness.
A 33 strong team of Pharmacy professionals from Lindsay & Gilmour pounded the streets of the Capital on Sunday to raise funds to support people facing long term health challenges. Participants in this year's Kiltwalk Edinburgh, from many of the pharmacy group's 30 branches across East and Central Scotland, Fife and The Borders, took part in this annual challenge to support the group's charity partner, Thistle.
Ahead of the walk, Lindsay & Gilmour Managing Director Philip Galt said: "We are delighted to be setting out on this year's Kiltwalk to raise vital funds for the tremendous work carried out by Thistle – who support people living with long term conditions or facing challenging life situations.
"Lindsay & Gilmour has a long history of investing in the health and wellbeing of the communities we serve and I wish all of our branch teams taking part the very best of luck for a fun and challenging event, with a great end result for Thistle."
Thistle Director, Nicola Park, said "We are delighted to be Lindsay & Gilmour's charity partner and it was fantastic that so many employees walked the Edinburgh Kiltwalk for Thistle on Sunday. The funds raised are vital to our work, supporting people to get their lives back on track after the devastating diagnosis of a long-term condition."
Lindsay & Gilmour was established in 1826, making it one of Scotland's oldest establish pharmacies. Today there are 29 Lindsay & Gilmour pharmacies spread across East and Central Scotland, the Borders and Fife, offering a full range of modern pharmacy services.
About Thistle
Thistle is an Edinburgh-based health and wellbeing charity supporting people who are struggling with the devastating diagnosis of a long-term condition (such as diabetes, hypertension, chronic pain, arthritis, depression or chronic fatigue).
People are referred to Thistle by GPs and other professionals or can self-refer to get support to re-take control of their lives.
In 2019, Thistle celebrates its 75th anniversary. Thistle was founded by Sir Francis and Lady Tudsbery in 1944 to provide support to disabled ex-servicemen, enabling them to live at home with their families whilst receiving the skilled medical attention that was essential to their recovery and wellbeing.
To make a donation, visit the Thistle website.
There are new vacancies available in our jobs section of the web site. The range of listings available are:
Pharmacy Manager
Full Time Pharmacy Dispenser or Technician
Full-Time Relief Pharmacy Dispenser or Technician
Dispenser or Technician
Trainee Pharmacy Dispenser
Lindsay & Gilmour Pharmacy is an equal opportunities employer.
It's never been easier to order and track your NHS prescriptions. And did you know, everyone is entitled to FREE delivery?
To find out more and speak directly with your local Lindsay & Gilmour, download the Healthera app today!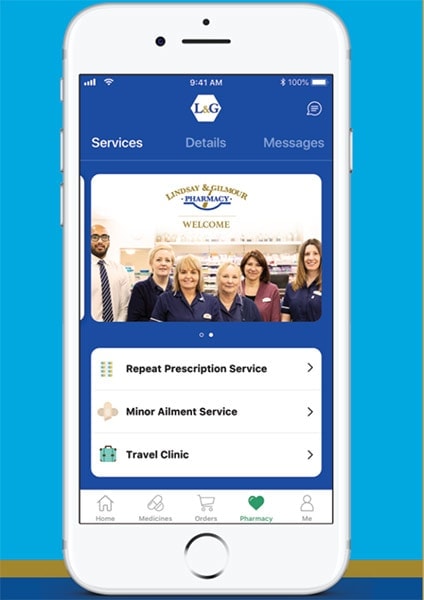 You can stay on top of your medications with daily alarms and refill reminders and manage your dependants' repeats - all under one account.
It's quick, convenient and secure. What are you waiting for?
L&G Rewards launches at East Calder on 29th May
It's our new way of saying 'thank you' to our wonderful customers and introducing ourselves to residents who are new to the East Calder community.
5 reasons you should come along on Wednesday 29th May:
Meet our fantastic team, including East Calder's new manager Emma Smyth
Benefit from a FREE health check
Learn more about the services available to you and your family
Sign up to L&G Rewards - we will load your loyalty card with £5 to spend in store
Take home a L&G goody bag
A FREE £5 You Sign Up to L&G Rewards
When you sign up to our loyalty card - L&G Rewards - we will load your card with £5 to spend in store. And furthermore you will be rewarded every time you shop with us, all you have to do is present your Rewards card every time you make a purchase.
Another Reason to Shop Local
So whether you're stocking up on sun cream, or re-filling your first aid kit ahead of a busy (and hopefully) sunny summer - you'll make money every time you shop at Lindsay & Gilmour and save money with exclusive cardholder specials and discounts throughout the year.
We're excited to launch L&G Rewards and for our customers to make real savings on in-store purchases.
We look forward to seeing you soon.
Danielle, 25 - ACT at Nuchem Edinburgh (part of Lindsay & Gilmour)
Danielle started at Lindsay & Gilmour when she was 15. Following an opportunity to do work experience, Danielle was offered a part-time job working after school and at weekends. Fast forward 10 years and Danielle is now a qualified ACT. She has been sponsored and mentored by Lindsay & Gilmour to achieve the necessary qualifications, including NVQ2 and NVQ3.
In her own words, Danielle shares her career journey to date...
I didn't actually know what I wanted to do when leaving school. I did my work experience week in my local pharmacy (Nuchem, owned by Lindsay & Gilmour) and really enjoyed it. In particular, I loved working with new people, the public and learning about all the medicines, treatments and services.
When finishing my work experience I was offered a part-time job which I accepted. It was only a couple of months later when I was offered full-time hours and I jumped at the opportunity. I signed up for my NVQ2 as soon as I finished the MCA (Medicines Counter Assistant training) and started working in the dispensary. I have never looked back.
I enjoy working in pharmacy because I enjoy working with people, I like helping, going over and above for people in regards to prescriptions, healthcare and just general advice. Pharmacies offer a lot of different services to help the public and I like being able to help as much as we do. I also enjoy working so closely with doctors surgeries and other health professionals.
My role is varied. I have the responsibility of checking people's medicines, making sure a quick reliable service is delivered and helping the team I work with. I like training new people so they feel comfortable and supported in their role. I deal a lot with smoking cessation - it's really rewarding when people stop smoking with my help.
I enjoy working for Lindsay and Gilmour because all staff, from head office to those in the branch are very approachable and willing to help if needed. They're very big on career development which was great for me as I liked learning on the job.
When training in the branch you are fully supported. You are appointed a mentor pharmacist for anything you need help with or to sign off assignments etc and in my experience, everyone I have encountered has been incredibly helpful.
I really enjoy working for the company and would highly recommend joining us and furthering your knowledge of community pharmacy.
If you would like to find out more about a career with Lindsay & Gilmour please email Maxine@lindsayandgilmour.co.uk
WIN £50 of...
To be in with a chance of winning:
go to - goo.gl/forms/F1uS10soc159RwRC3
enter a valid email address
answer the question correctly (hint - check out the latest news page on our website)
You will then be entered in to our prize draw to win £50 of 'One4all' gift cards!
GOOD LUCK!!
The winner will be contacted by email.